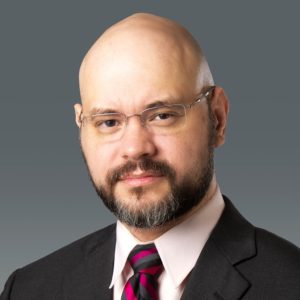 In a previous post, we emphasized that copyright protections do not extend to elements of a work that are unoriginal. A recent precedential decision from the Ninth Circuit Court of Appeals reinforces these principles, emphasizing the need to consider to what extent a work is genuinely an original work of authorship.
If you haven't been following along, Christian rapper FLAME released the song "Joyful Noise" in 2008. Katy Perry subsequently released the song "Dark Horse," in 2013. The two songs have very similar 8-note ostinatos; i.e., they both have a recurring 8-note musical phrase that sounds quite similar. Compare, for example, the electronic beep-boops of "Joyful Noise" (e.g., at the outset) to the synth beep-boops of "Dark Horse" (e.g., at 1:17).
FLAME brought suit alleging that Katy Perry was liable for copyright infringement and a jury agreed; awarding FLAME $2.8 million in damages. However, the California district court vacated that jury award stating that, as a matter of law, the evidence was insufficient to show that FLAME's electronic ostinato was original and thereby protectable under copyright. FLAME appealed to the Ninth Circuit Court of Appeals.
The Ninth Circuit just recently affirmed the California district court's decision, emphasizing that copyright only protects a work to the extent that it is an original work of authorship and holding that FLAME failed to establish that Katy Perry copied something from FLAME that meets this originality standard.
To be clear, the issue is not that the court found "Joyful Noise" to be lacking in originality such that it cannot be protected under copyright. Indeed, "Joyful Noise" almost certainly is protected in a variety of ways (e.g., the lyrics). Rather, the issue is that the elements Katy Perry purportedly copied from "Joyful Noise" are unoriginal elements and are therefore outside of any copyright protection "Joyful Noise" may enjoy.
I mean, if it's evenly-spaced descending electronic notes you crave, a fun example predating "Joyful Noise" and cited by the court can be found in "Love Me or Hate Me" by Lady Sovereign, released in 2006 (warning: NSFW language). Other examples are abound, with the court comparing the musical phrases at issue to basic children's songs like "Mary Had a Little Lamb," among other long-standing simple tunes. The court evaluated the length, rhythm, melody, scale degrees, melodic shape, timbre, and placement of the "Joyful Noise" ostinato within the musical space of the recording. Nonetheless, the court found that, whether these elements are considered individually or in combination, "Joyful Noise" lacks "the quantum of originality needed to merit copyright protection" (quoting Satava v. Lowry, 323 F.3d 805, 811 (9th Cir. 2003)).
In view of the above, it is clear that simply releasing an earlier song that sounds like a later song is insufficient to prevail on a claim of copyright infringement. Plaintiffs need to be able to articulate to the court how the copied elements are a creative contribution to the artistic landscape in order to demonstrate that their copyright extends to the elements allegedly copied.