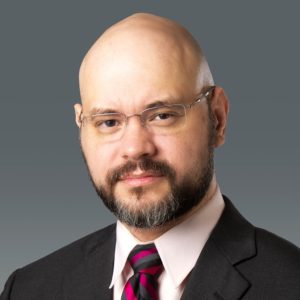 Coats & Bennett is proud to announce that, for the fifth year in a row, Patent Attorney and firm Member William G. Pagán has been named to SuperLawyers' Intellectual Property Rising Stars List.  Will is one of only nine attorneys named to this list throughout North Carolina.
An established leader in the firm's computing technology sector, Will is frequently called upon to tackle the "hard cases," either from a legal or technical perspective.  He has a substantial patent preparation and prosecution practice across numerous scientific and engineering fields including quantum computing, semiconductors, wireless communication systems, industrial machines, encryption techniques, machine learning systems, RF amplifiers, and more. 
Having practiced on the front line of subject matter eligibility issues both before and since the U.S. Supreme Court's infamous Alice decision, Will has provided invaluable counsel to numerous clients who have been left uncertain as to how to protect their IP within a seemingly unpredictable legal framework.  With a burgeoning appellate and transactional practice built on his successful past experience practicing before the USPTO and his engineering, patent, and business experience at IBM, clients are increasingly making Will a key partner in their patent development, IP monetization, trademark branding, and B2B contract negotiation strategies, among other things. 
Join us in wishing Will our most sincere congratulations!