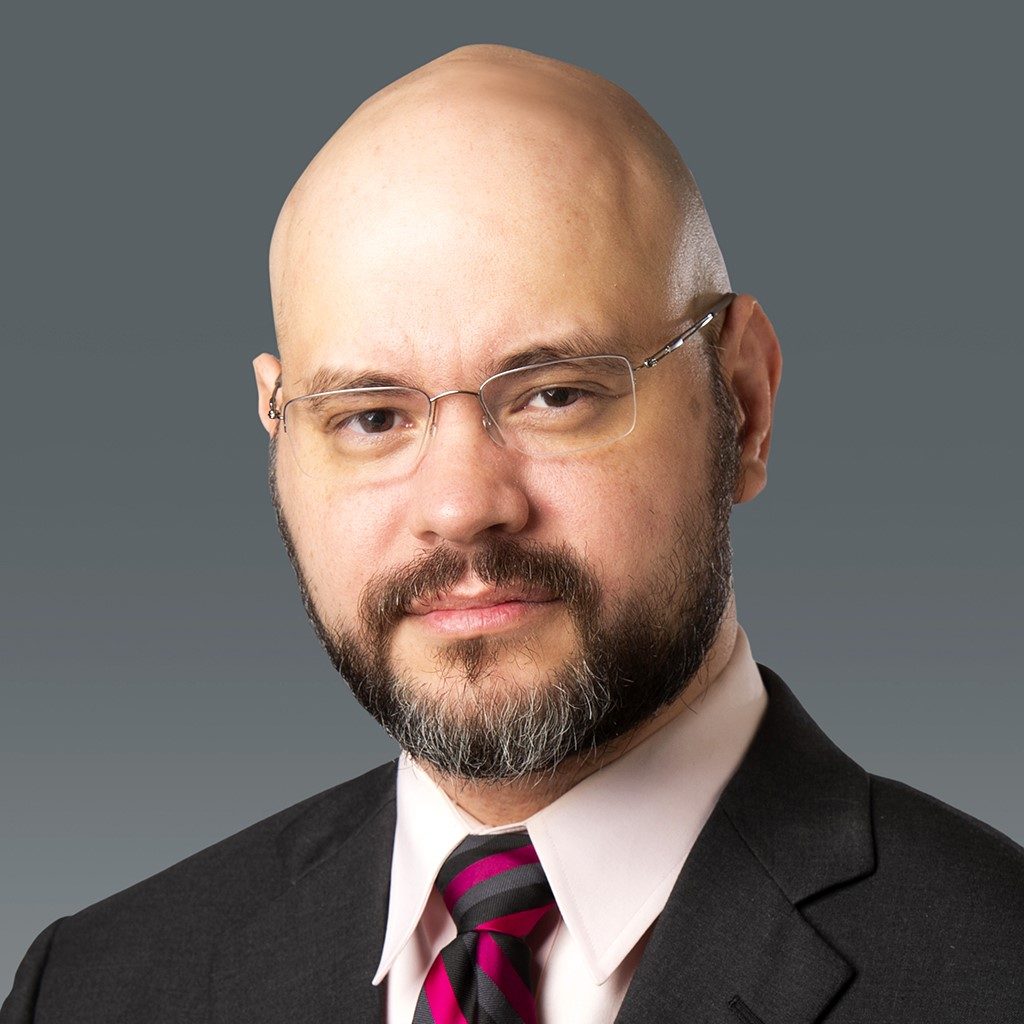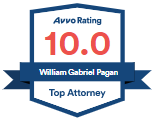 (as of Dec. 2022)
PRIMARY PRACTICE AREAS
Patents
Trademarks
Copyrights
IP / Technology Contracts
EXAMPLE TECHNOLOGIES
Telecommunications
Computing Platforms & Networks
Software
Artificial Intelligence & Machine Learning
Amplifiers
Semiconductor Packaging
Systems & Power Management
Media Codecs
Operating Systems & Virtualization
Encryption & Data Integrity
Smart Lighting & Home Automation
Optical Waveguides
Medical Devices & Systems
Industrial Machines
Aerospace Technologies
CONTACT
Toll Free:
800-575-1278
William G. Pagán is an award-winning patent attorney, a member of the NC State University Computer Science Alumni Hall of Fame, and an IBM Master Inventor named on over 130 U.S. patent applications.  He also graduated Summa Cum Laude (highest honors) as the Evening Program valedictorian at NCCU School of Law.
Will helps clients obtain, enforce, and monetize their intellectual property rights, particularly with regard to patents, trademarks, and copyrights. In this regard, Will often represents clients seeking patents before the U.S. Patent and Trademark Office.  He also helps clients pursue or defend against allegations of patent, trademark, and copyright infringement.  Clients also leverage Will for assistance with their IP valuation, licensing, and transfer objectives.
Nationally-recognized as a Luminary in the Science, Technology, Engineering, and Math (STEM) disciplines at the Hispanic Engineering National Achievement Awards Conference, Will spent 14 years at IBM in a variety of engineering roles before commencing his legal practice.  These engineering roles include over a decade of experience in IBM's server development business, where his work on IBM's Intel-based Thurley platforms earned him IBM's Outstanding Technical Achievement Award. He also served in IBM's IP Licensing and Assignments organization where he researched, investigated, and produced proofs of potential patent infringement.
EDUCATION
North Carolina Central University School of Law, Durham, North Carolina

Juris Doctor, Summa Cum Laude
Evening Program Valedictorian

North Carolina State University, Raleigh, North Carolina

Master of Computer Science

Pace University, New York, New York
Bronx High School of Science, Bronx, New York

Advanced Regents Diploma, Biology Concentration
SELECTED HONORS
LEGAL

The Best Lawyers in America: Intellectual Property Litigation, Best Lawyers, 2023
NC Rising Star: Intellectual Property, Super Lawyers, 2019-2024
Major General Dwight H Wheless Legal Officer of the Year, Civil Air Patrol: United States Air Force Auxiliary

North Carolina Wing, 2019, 2020
Mid-Atlantic Region (incl. DE, MD, DC, NC, SC, VA, WV), 2019

NC Pro Bono Honor Society, North Carolina Pro Bono Resource Center, 2017-2020
Outstanding Pro Bono Achievement, North Carolina Bar Association IP Law Section, 2019
Leaders in the Law, North Carolina Lawyers Weekly, 2016, 2018
ENGINEERING
37 Invention Plateau Awards, IBM, 2005-2012
Master Inventor, IBM Corporate Headquarters / Office of the CIO, 2011
Research Triangle Park Inventor of the Year, IBM, 2010
Outstanding Technical Achievement: Intel Thurley Server Platform Integration, IBM, 2007
Master Inventor, IBM Systems & Technology Group, 2006
Role Model of the Week, Hispanic Engineering National Achievement Awards Conference, 2008
Luminary Award, Hispanic Engineering National Achievement Awards Conference, 2007
Star Award, Distributed Management Task Force, 2007
CIVIC
Wing Commander's Commendation, Civil Air Patrol: United States Air Force Auxiliary, 2016, 2017, 2021
Crisis Service Award, Civil Air Patrol: United States Air Force Auxiliary, 2020
Meritorious Service Award, Civil Air Patrol: United States Air Force Auxiliary, 2019
Air Force Organizational Excellence Award, United States Air Force, 2018
SELECTED PAST POSITIONS / ROLES
IBM

Patent Engineer/Analyst, IP Licensing & Assignments, Corporate Headquarters, 2011-2013
Master Inventor, Corporate Headquarters / Office of the CIO, 2011-2013
Master Inventor, Systems & Technology Group, 2006-2013
Software Engineer, System x Server Development, Systems & Technology Group, 1999-2011

Distributed Management Task Force

Chairman & IBM Representative, SMASH / Systems Management Forum, 2005-2007
PRO BONO & VOLUNTEER ROLES
Hispanic National Bar Association

Region VI Deputy Regional President, 2022-Present

North Carolina Central University School of Law, Board of Visitors

Chair, 2023-Present
Vice Chair, 2022-2023
Member at Large, 2020-2022

Civil Air Patrol, United States Air Force Auxiliary

NCWG Diversity Officer, 2019-2022
NCWG Legal Officer, 2017-2021
NCWG Assistant Legal Officer, 2015-2017, 2021-2022

Innocence Project

Case Manager, 2011-2012
Researcher, 2010-2011
PROFESSIONAL ASSOCIATIONS
Society of Professional Hispanic Engineers, Life Member
North Carolina Society of Hispanic Professionals, Life Member
Hispanic National Bar Association, Member
Puerto Rican Bar Association of Illinois, Member
MEDIA/SPEAKING ENGAGEMENTS
Guest Lecturer, Inventions and Innovations Class, Henrico County Public Schools, VA, January 2022
Guest Lecturer, Subject Matter Eligibility (Abstract Ideas), Patent Law Course, University of North Carolina School of Law, Fall 2020
Keynote Address, NC State Computer Science Diploma Ceremony, Fall 2018
Intellectual Property: Securing a Competitive Advantage in the Marketplace, North Carolina Society of Hispanic Professionals, 2017
Guest Interview, Cup of Technology, WCOM-LP 103.5 FM, 2017
Patent Subject Matter Eligibility: Arguing Against Abstract Idea Rejections, The Knowledge Group, 2016
IP Law Panel Discussion, NCCU School of Law, 2015
Taking Flight: Meet William Pagán, NCCU, 2014
Valedictory Address, NCCU School of Law Commencement Ceremony, Spring 2014
Effective Leadership of Invention Brainstorming, IBM, 2011 to 2013
Being a Successful Inventor: Practical Advice for All Levels of Inventors, IBM, 2007 to 2013
Efficiently Writing Effective Patent Disclosures, IBM, 2007 to 2013
Getting Agile in the Real World: Best Practice Adoption in Complex Environments, IBM Webcast, 2010
Key Leadership and Advancement Behaviors, Society of Hispanic Professional Engineers Region VII Conference, 2009
Best Practices in Standards Participation, IBM, 2008
Host, Leadership in the Management and Technical Executive Tracks, Hispanic Engineering National Achievement Awards Conference, 2007
IBM Systems Management Technologies and Importance of Interoperability Standards, Microsoft Management Summit, 2006
SMASH Forum Overview and SMASH CLP Validation, DMTF Management Developers Conference, 2006
Eliminating Systems Management Device Drivers via Enhanced Serial Port Architecture, IBM Tech Connect, 2004
BAR ADMISSIONS
State of North Carolina
U.S. Patent and Trademark Office
U.S. Court of Appeals for the Federal Circuit
U.S. District Court for the Eastern District of North Carolina
U.S. District Court for the Middle District of North Carolina
U.S. District Court for the Western District of North Carolina